Children's Church
Our objective in all of our Children's ministries is to introduce our children to the love of God ("Whoever does not love does not know God, because God is love." 1 John 4:8), and show our children the way to develop a personal relationship with Jesus Christ ("Jesus answered, "I am the way and the truth and the life. No one comes to the Father except through Me." John 14:16).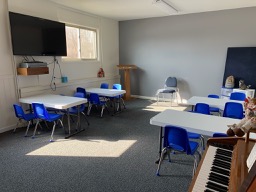 Children's Church provides children the opportunity to participate in worship and ministry at a level that fits their age and stage of development. Children, ages 4-8 years old, begin the worship time with their parents in the worship service. At this time, children will meet in the fellowship hall after Sunday School and walk with their teacher to the Junior Church room.  Parents are welcome to walk along.
The teachers share a Bible lesson, teach Bible verses, and sing songs. Each week the children learn about and pray for our missionaries. When missionaries are visiting, they often stop by and talk to our children. And of course, Reggie Raccoon (our puppet) visits to the delight of the children.
Children's Church is also a time to teach how to serve the Lord. The children will send cards to the sick and participate in the Operation Christmas Child outreach by packing shoe boxes and praying for the child who will receive them.
Family activities are also an important part of the Children's Church program. Families participate in a Pinewood Derby in March, take a steam engine train ride on the Arcade & Attica Railroad in the summer, and pick apples for those who are unable to do it in September.
Contact Us
Children's Church coordinator – Sharon Francisco
Hillside Baptist Church
Rt. 66
Hornell, NY 14843
(607) 324-0309