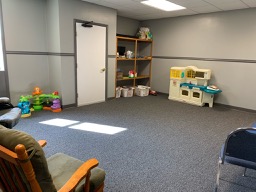 The Hillside Baptist nursery staff provides a safe and nurturing environment for your child while you worship with our church family. Our nursery cares for newborns through toddlers, 36 months, during the morning worship service and morning Sunday school. The nursery volunteers are Hillside church members under the direction of our Pastor's wife, Melissa Brittingham.
Frequently Asked Questions:
Nursery care is provided during the morning Sunday School classes (10:00 AM) AND the Sunday morning worship service (11:00 AM).

We have nursery for children Newborn-36 months

The Nursery is open 15 minutes prior to the service.

The staff for that day will want to meet you and make the connection between you and your child.

The Nursery doors will be locked during services. Only parents and volunteers will be allowed access at any time.
Check-In: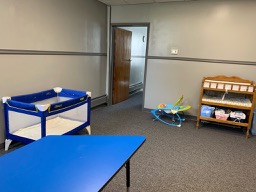 The check-in room is the same room where you will pick up your child at the end of the service.

Please label all personal items (bottles, pacifiers, cups, etc.)

First time visitors will fill out an information sheet.

The staff will ask you for a cell phone number so that they can text you in the service if there is a need. Our head usher is also available to get a message to you if that is a better way for you.

Please let the nursery care volunteers know if there are any special needs that your child may have, and provide any special instructions concerning the feeding of your child.

The same parent/guardian that dropped off the child must pick up the child in the room where you checked in.
Wellness:
In order to protect our children and workers, we ask that you not bring your child to the nursery if he/she has symptoms of illness, including:
if your child currently has a fever or has had one within the past 24 hours

if your child has a colored nasal discharge

if your child has an obvious sore throat or cough

if your child has been vomiting or has had diarrhea

if your child has any unexplained rash/skin infection

if your child has pink eye
PLEASE NOTE: The nursery staff cannot administer any medications. If a child develops any of the above symptoms during the service, the parents will be immediately notified and the parents must care for the child outside of the nursery area. We continue to strive to make a priority the needs and the health of all of the children in our care.
Contact Us
Nursery Administrators – Melissa Brittingham and Debbie Auckland
Hillside Baptist Church
Rt. 66
Hornell, NY 14843
(607) 324-0309